The Gluten-Free Revolution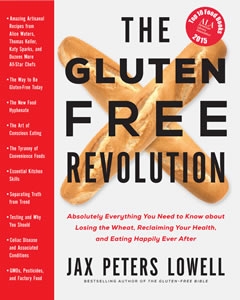 Absolutely Everything You Need to Know about Losing the Wheat, Reclaiming Your Health, and Eating Happily Ever After
By Jax Peters Lowell
Published by Holt Paperbacks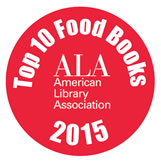 The American Library Association's Booklist names The Gluten-Free Revolution one of the "Top 10 Food Books of 2015!"
With keen intelligence, humor, a trademark gift for storytelling, and the help of the best medical experts in the field, Jax Peters Lowell provides the essential road map to the pleasures, pitfalls, and practicalities of what it means to be gluten-free today.
Employing the most recent research on celiac disease, gluten intolerance, and related medical issues and offering the latest advice on cooking, entertaining, traveling, college, dating, and raising healthy kids, she leaves no dots unconnected. She tackles tough issues such as GMOs, pesticides, antibiotics, and the impact of processed food on the epidemic of food allergies. Recipes from superstar chefs make a delicious case for taking the healthier and more conscious path.
With its enormous breadth and scope, impeccable research, and surprising heart, The Gluten-Free Revolution is the definitive resource, a must-have for every gluten-free library.
Praise
"Jax Peters Lowell has done it again! An important book that covers all the bases…Beautifully written, an absolute joy to read." — Alicia Woodward, Editor-in-Chief, L.W. Gluten-Free & More

"Such a lot of information of such good quality. A must for those who plan on going gluten-free!" — Peter HR Green, MD, Director Celiac Disease Center at Columbia University

"With disarming wit and authoritative command of science and research, Lowell's positive, uplifting, can-do spirit is absolutely contagious." — Kristina M. Johnson, Founding Editor-in-Chief, Women's Health

"Chatty, funny, and practical… an information-packed winner." — Booklist Starred Review

"Empowering and terrifically entertaining –a roadmap for a successful gluten-free life." — Marilyn Geller, CEO, Celiac Disease Foundation

"A wise and funny encyclopedia. Poet and pragmatist, Jax Lowell has created a rich gluten-free stew of what matters most for a good life with celiac disease." — Martin J. Blaser, MD, author Missing Microbes, Director, Human Microbiome Program, NYU
Paperback | 656 pages | 9780805099539 | February 3, 2015